Course dates: November 10-29, 2020

Last Date to apply: November 5, 2020

Under India's National Clean Air Programme (NCAP), about 122 nonattainment cities have prepared clean air action plans for reaching their target of 20 to 30 per cent reduction in particulate pollution by 2024 from the 2017 levels. As these cities move to begin their implementation processes and systems, it will be crucial for them to build capacity and knowledge for sector-wise and department-wise strategies and regulatory actions.
For instance, what kind of actions and strategies would be needed in different sectors, ranging from vehicles and waste burning to industries and clean household energy? How can cities enhance and strengthen air quality monitoring strategies and source assessment to guide policy-making?
Centre for Science and Environment (CSE), known for its decades of ground-breaking research and advocacy in air pollution abatement and management, and for its leading edge in capacity building of public institutions and regulatory agencies, offers a new training programme in this subject. This two-week online course is especially designed to meet the needs of clean air action planners and implementing agencies and individuals from different sectors.
WHO CAN APPLY?
Government officials from different departments involved with clean air action planning and NCAP programme and working on sectoral strategies for air pollution control; officials involved with implementation in targeted sectors
Professionals, consultants, planners, practitioners providing technical support to city action plans and programmes
Academia including faculty, researchers, and students researching and building curriculum on the interdisciplinary issues related to sustainable development and pollution matters
Civil society groups, NGOs, clean air advocates designing awareness programmes on air quality
Students aiming to enrich curriculum and shape careers in this field
For more information, please contact

Shourabh Gupta
Mobile: +91-8826806794
Email: shourabh.gupta@cseindia.org

Priyanka Chandola
Mobile: +91 - 9810414938
Email: priyanka@cseindia.org
Date July 16 –17, 2020
Last Date to Apply 10th July 2020
Course Duration 4 Hours
Increasing demand and consumption of natural resources is contributing to higher emissions and climate risks in developing countries. There is high water stress, pollution, inadequate and inefficient infrastructure and heavy reliance on non-replenishable energy resources. This plunge necessitates a switch to smart and environmental friendly practices at micro and macro level. Educational campuses have enormous potential to promote environmentally responsible practices and behaviour, experiment with innovative solutions, combine learning and practical application, and cultivate a culture full of values.
CSE is working with a network of committed colleges/universities across India and helping them to establish, practice and report environmental sustainability as part of their campus management and empowers them for mandatory/voluntary compliances, as well enables them to secure financial support from internal and external funding for implementations. CSE's Green Campus Initiative (GCI) has been enabling regulators, architects, engineers, planners, academia and civil society to shape efficient use of water-energy-land, minimize wastage, improve livability and promote a healthy lifestyle in their respective campuses.
ABOUT THE TRAINING PROGRAMME
The key objective of the training programme is to upscale the knowledge among the target group in addressing environmental sustainability, establishing and monitoring performance baseline and reporting the sustainable practices at campus level. The training programme has been designed at two Levels: Level-1 (4hrs) and Level-2 (15 hrs). Both levels of training programme will include technical sessions, experiential learning using detailed case studies and hands-on exercises followed with tests and assignments.
LEVEL-1: The Level-1 training programme is designed for 4 hrs duration, which will capture the principle of green and sustainable educational campus. A brief session will be conducted to make fraternity acquainted with the process of joining ªCSE's Green Campus Initiative Networkº. A participation certificate will be issued on successful completion of small MCQ Test. The score criteria set at 75% marks for the issuance of training certificate.
LEVEL-2: On successful completion of Level-1 training programme on the proposed dates, Level-2 training programme will be conducted. The Level-2 training programme is the advanced version of Level-1 training programme, which shall include detailed description of calculation methodology with multiple case studies of relevant significance. The Level-2 training programme dates and mode of delivery will be communicated later based on receiving the participant interest at Level-1 training programme.
HIGHLIGHTS OF THE PROGRAMME
Sustainability Guidelines and Indicators of Green/Sustainable Campus
Establishment of Performance Baseline across five themes of sustainability
Risk Assessment of Campuses
Sustainability Data Reporting Analytics of educational Campuses
Green Campus Case Studies

For queries get in touch with Course Coordinator

Ms. Sonia Rani
Programme Manager
sonia.rani@cseindia.org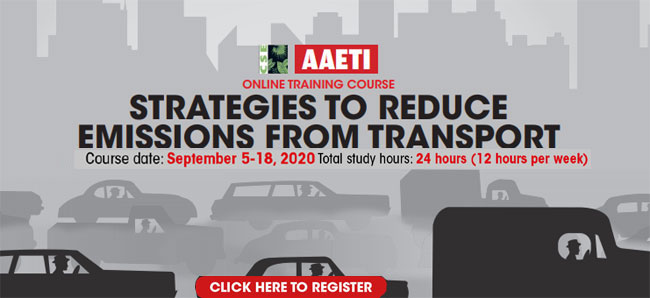 Why this course?

This programme represents our initiative to promote good regulatory practices, enhance understanding, and build capacity on strategies to reduce transport sector emissions. This has become necessary within the framework of the National Clean Air Programme (NCAP) that mandates cities which do not meet clean air standards to reduce particulate air pollution by 20-30 per cent by 2024. All city clean air action plans, therefore, have included strategies to control emissions from transport sector to meet the clean air target, as the transport sector's contribution to overall pollution concentration, load and exposure is substantial.
This has created a demand for deeper understanding of the multi-pronged strategies needed to control vehicular pollution. These encompass emissions standard roadmaps and on-road emissions management to control real world emissions; sustainable transport modes (public transport, walking and cycling), multimodal integration, parking policy and urban planning to reduce the vehicle miles travelled. These interventions also align with the sector-specific strategies that state governments have initiated as part of other policies and programmes.
This requires deep understanding of the way these strategies need to be designed and developed for scale and effective impact for time-bound air quality improvement. Several exciting changes are underway in cities, and it is important to build capacity and a new cadre of professionals.
How is this course structured?
This course will be conducted on the Moodle/Zoom platform through a variety of tools such as video lectures, classroom exercises, reading materials and resources, audio/visual methods including short films and interviews, and interactions with key experts. The programme has been structured as follows:
Module 1
Understanding urban air pollution, public health and transport sector emissions
Module 2
How technology roadmaps need to evolve to reduce emissions from vehicles
Strategies for on-road emissions management – current and new generation strategies to control real world emissions
Towards zero-emission electric vehicles
Module 3
Public transport strategies to reduce emissions
Bus transport reforms and electric mobility in cities
Module 4
Non-motorised transport strategies for zero-emissions mobility
Urban planning, transport integration and compact urban form
Module 5
Strategies to reduce vehicle miles travelled – designing parking policy as a demand management measure, understanding global practices like congestion charging, low emissions zones etc
Certificate of participation: Participants will be awarded certificate on completion of the course
For Register Click here

As seats are limited, registration will be on a first come-first served basis.
For more details, please contact the Training coordinator
Priyanka Chandola
Programme Manager
Clean Air and Sustainable Mobility Programme
Centre for Science and Environment
Mobile: +91-9810414938
Email: priyanka@cseindia.org