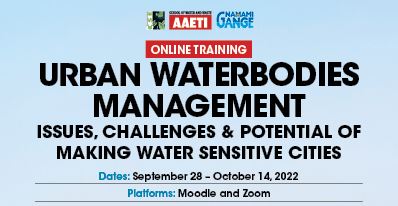 This second online training is a part of series of activities envisaged under 3-year duration CSE programme – 'Capacity building initiative focusing on 'Making Ganga basin cities water sensitive'. Under this initiative series of – webinars, workshops trainings (both online and residential), field exposure visits, knowledge conclaves aimed at engaging 1,300+ number state / municipal functionaries and other sector players.
Aim
Capacity building of State/Municipal functionaries and other sector players on issues, challenges and potential of urban water bodies management and mainstreaming water sensitive urban design and planning.
Training Highlights
Overview of existing issues and challenges in the waterbodies (and its catchment) management in urban areas.
WSUDP - approach and its potential in urban water bodies management.
Baseline survey and data collection – Step by step preparing for urban waterbodies management
Understand enabling institutional frameworks and regulations applicable for mainstreaming WSUDP and urban water bodies management
Best Management Practices (BMPs) and case studies of successfully implemented projects and socio economic effectiveness.