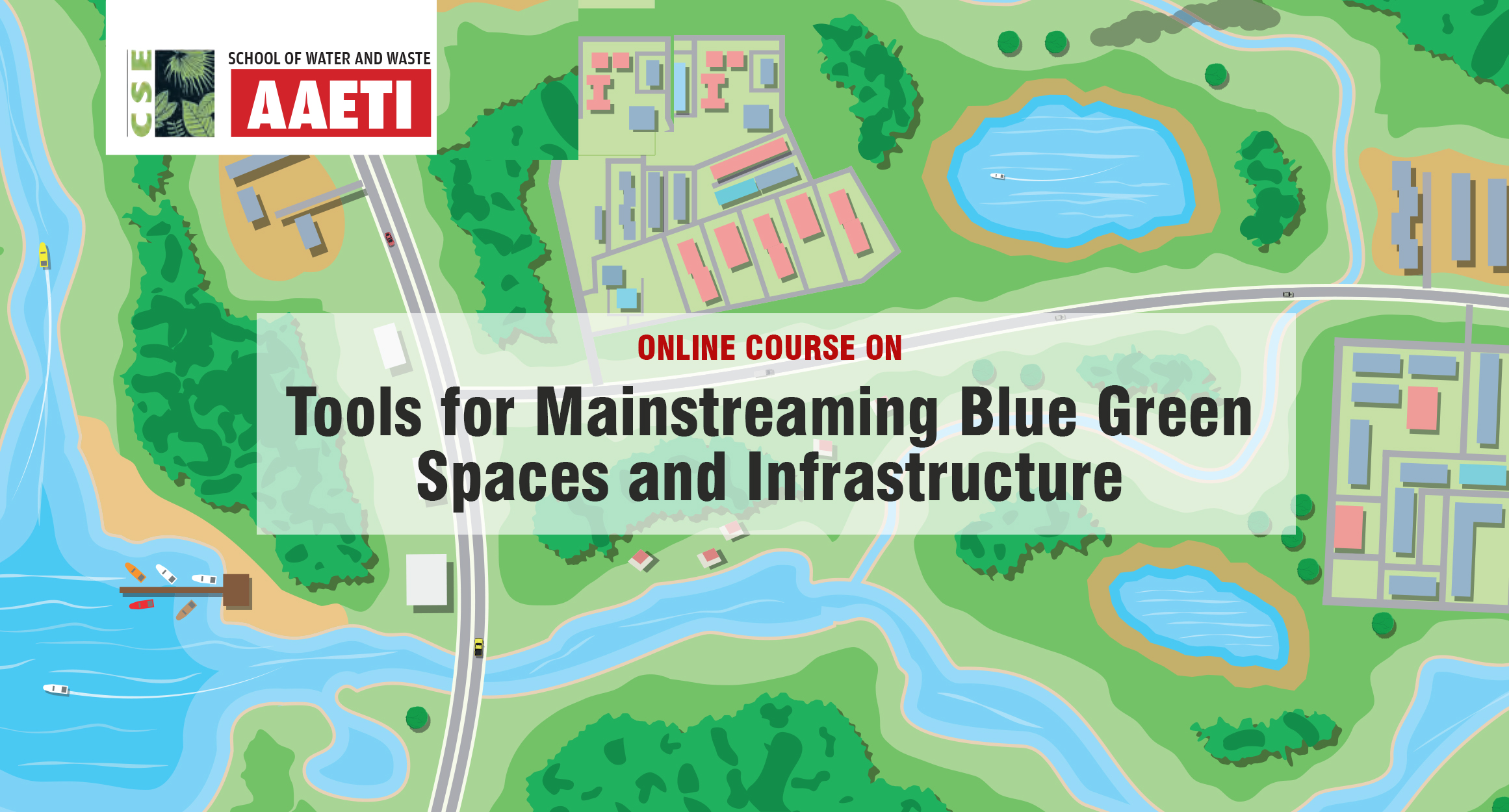 Cities are growing in size, space and economy. However, cities today are facing multiple challenges, emerging from an ever increasing demand for services, crumbling infrastructure and climate change. In this context, it is imperative to mainstream the concept and strategies of Green Infrastructure (GI) with Water Sensitive Urban Design and Planning (WSUDP).
However, despite numerous benefits of GI & WSUDP, its wider implementation faces a number of challenges, such as lack of awareness by decision-makers and rigid regulatory or funding policies that stipulate traditional grey approaches. Also, there is a need for agreed methodologies for cost-benefit analyses that would enable a full comparison of grey and blue-green spaces / infrastructure options.
CSE published India's first Practitioner's Guide(s) on Green Infrastructure and Water Sensitive Urban Design and Planning; including an Urban Water Sustainability Template in 2017, commissioned by the Central Ministry of Housing and Urban Affairs, Government of India. The guides aim at mainstreaming reforms and capacity building of state / municipal functionaries and others involved in the advocacy for sustainable urban water management in India cities. Various global institutions have also developed tools and approaches in this direction to help cities and towns, and their regions, to be sustainable, resilient, productive, and liveable and water sensitive.
The School of Water and Waste (SW&W) is a capacity building initiative of CSE that aims to establish policy principles, innovative technologies, and implementation strategies for city wide water and sanitation management, which will lay the foundations for a water and waste-prudent society.
The course features technological learning tools such as presentations, videos featuring case studies, and other audio and reading material. The training focuses on roll out and testing of various tools which help in mainstreaming the concept and strategies of blue green Infrastructure.
Aim
The aim of the training is to create change-agents in the urban water management sector, who will have in-depth understanding of key tools and approaches for mainstreaming blue green infrastructure.
Objectives
Overview of blue green infrastructure approach.
Understanding and state of art tools developed for in global south like Water Sensitive Cities Index developed by CRCWSC.
BlueHealth Tools

: Behavioural Assessment Tool (BBAT), Environmental Assessment Tool (BEAT), Community Level Survey (BCLS)

Roll out, test and contextualisation of the tools in local / regional context vis-à-vis upcoming policy, programmes and projects.